Audio Visual Equipment Hire
We know that when it comes to AV hire companies, you have a choice, but if you're looking to hire AV equipment for your event, GRT have a great selection to choose from. Our team pride themselves on understanding your needs so that we can help you decide if you need a small PA rental for a meeting or a full AV hire for a corporate event or a large-scale audio hire for a festival, GRT can supply AV hire kit for practically any event. And if you need to hire a projector for your presentation at a meeting or event, we have a range of long and short-throw projectors to suit different situations. We're not saying that other AV hire companies don't, but we pride ourselves on our reputation and when it comes to AV companies, midlands based GRT is large enough to cope, but small enough to care. We're not like other AV companies. Birmingham has a special place in our hearts. After all, the owners of GRT have lived and worked here for over 30 years.

Our trained technicians can deliver, set up and demonstrate the audio visual equipment to you, or we can arrange for our technicians to be on-site throughout your event to make sure you don't have any issues. After all, you want to be making sure that you get your message across rather than having to operate the AV equipment too.
Audio equipment hire
Having the right sound system for your event will make all the difference. We have a full range of audio equipment, sound systems and PA systems available to hire for all types of event, from a small boardroom meeting to a large scale conference for 1000 people. We have a variety of passive and powered audio mixers and speakers depending on your needs. We have a selection of wired and wireless microphones with both lapel tie clip, head worn and hand held options. We use top name suppliers including Soundcraft, Sennheiser, Yamaha and Shure.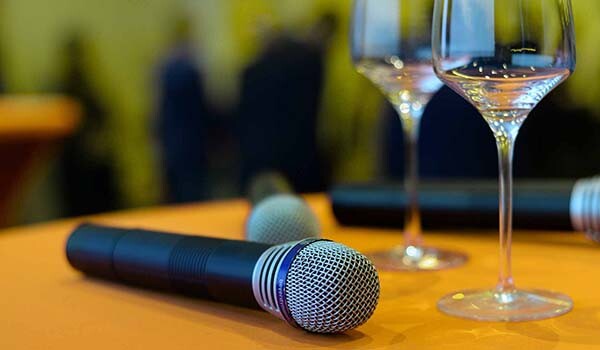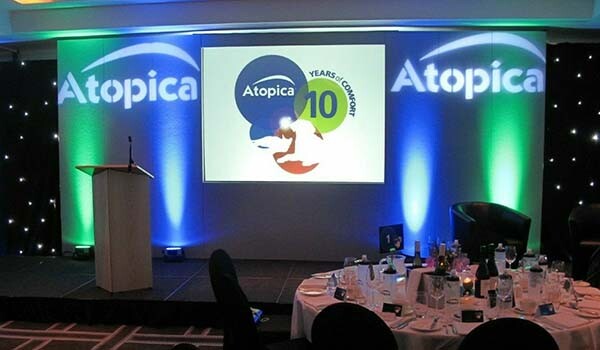 Projector hire and projection screens
If you need to hire a data projector for your conference or event in Birmingham or the West Midlands, we have a selection of projectors from 3000 lumens up to 12000 lumens. We have selection of projectors with fixed lens, short throw and zoom lenses. All our projectors come supplied with cables and connectors and we also provide front projection and rear projection screens to suit the size of your event. Our screens can be built into stage sets or free standing. We use top name manufacturers such as Draper, Da-lite and Harkness Hall.
Large screen TV and monitor hire
From 32 inch to 80 inch and above, if you need to hire a TV for a day or if you need to hire a number of large screen TVs' for your multi-day event we have large screens available for hire. We also have a variety of Unicol stands to support your large TV and we can also build our screens into stage sets for a more seamless integration.
Our screens are perfect for presenting in offices, meeting rooms, conferences, open spaces, marquees, exhibitions and weddings.


Lighting hire
The right lighting can transform your event from drab to fab at the flick of a switch. We have a variety of lights and fixtures available to hire from generic flood lights, colour washes and LED battens to moving lights with custom gobos and high powered strobe lights. We can also provide ultraviolet lights, uplighters, battery powered and architectural lighting. Much of our lighting can be controlled with a simple control desk, but for larger installations, we can supply a lighting desk and lighting technician to bring your event to life.
Set & stage
We provide stages and stage sets for all different type of event. From themed events through to high end conferences, exhibitions and festivals, we've can provide you with the right set and stage for your event. We use different types of staging depending on the requirements, so even if you want to park a car on stage, or just need a stage for a podium or fashion catwalk, we can deliver and install the right solution.