Online & Hybrid Events and Webinars
Online conferences have become the new norm, and every online & hybrid event is different. Whether it's a Zoom webinar, a Teams call or a WebEx meeting, they all have a place. That's why we work with a variety of virtual event platforms to provide you with the best solution for your webinar, online event or virtual conference. Our online conferences are carefully designed to make sure that your content reaches the people you need it to, and with both livesteaming and on-demand solutions, your online conferences, events and webinars or virtual events will be accessible to anyone with an internet connection.
We understand the different types of online event platforms and will make sure your online event is one that visitors want to attend. As a virtual conference production company, whether you need to deliver your content via a virtual event to 10 or 1000 people, we can help take the stress out of it and make sure it's a big success.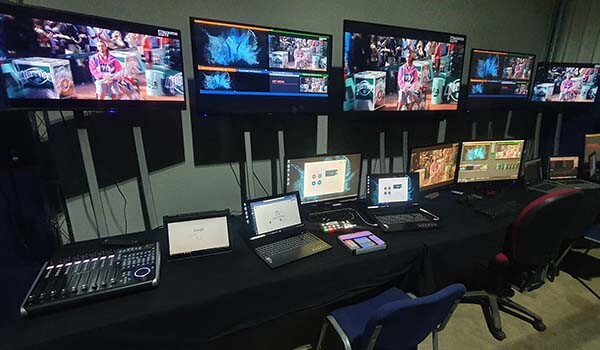 Virtual Event Production
Good virtual event production takes skill.
At GRT we understand how a good virtual event makes all the difference. Your webinar, webcast or online event needs to get your message out in an engaging, informative and relevant way. Over the past year we've all attended countless "average" Zoom, Teams & WebEx meetings, so we know that your virtual event needs to be better than the average online event.
Our virtual event solutions allow you to present a far more professional offering and with options for integrated on-screen graphics, scrolling tickers, presenter names, company logos and playback of pre-recorded material, we can help deliver your next webinar or online event.
Livestream Studio
Our purpose built livestream studio is available to run your online event from. We can even deliver your presenter slides from our remote studio and also include your presenter feeds from practically anywhere in the world as if they were all in the same conference room. Our studio can be configured to represent your company or brand and all our equipment is sanitised before your arrival to make sure everyone stays safe. We have Strict social distancing measures in place which must be followed at all times when on site in order to maintain our covid-safe status.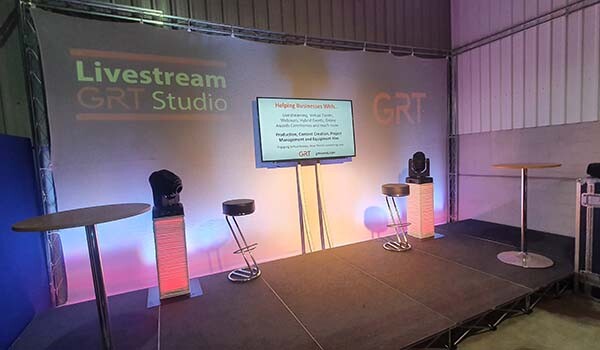 Pre-recorded Content
If your presenters are uneasy about delivering their content live on your virtual event or online webinar, we can record your presenters from their remote locations practically anywhere in the world (providing they have an Internet connection). Alternatively we can arrange a socially distanced film shoot either at our livestream studio or a location of your choosing. Pre-recorded content can easily be delivered into your Zoom webinar or virtual conference. Even if you already have a virtual event platform in place or even a contract with another virtual event provider, we are happy to look after the rest of the production and to stream your online event to the platform of your choice.
Hybrid Conferences
As restrictions start to get lifted and things start to return to normal, hybrid conferences will become a feature of many events. That's why back in 2020 we developed our hybrid conference packages to provide a combination of in-person and virtual event in one seemless production where both those in the room and those taking part from remote locations feel they are all part of the same event. In-room Q&A stations allow delegates to que in a socially distanced manner whilst waiting to speak in front of the microphone and camera. The audio and video feeds from remote delegates are brought into the room and shown on the screens where presenters can answer questions. Remote delegates also get to see and hear the video and audio feeds from three in-room cameras.


Mobile Webcast Studio
Our mobile webcast studio can be brought to your offices or to a venue of your choosing. We bring the greenscreen background, lighting, cameras and microphones. In fact we bring everything needed to your your virtual event remotely. We can even bring high speed Internet data connections so that your company network doesn't slow down or cause problems for other users. Our technicians will organise all of the tecnical side so that lower thirds, stings and stabs, presentations, polls and questions are all fed into the event at the right time. We take away the stress to allow you to deliver your event the way you want.
Remote Broadcast Solutions
Just because you can't go into the office, it doesn't mean you can't deliver a virtual event. Over the past year, we've delivered virtual events from a variety of locations. We've even delivered events from home. The whole point of a virtual event is that you don't have to be in the same room as each other - we've had presenters from across the world brought together as if they were in the same room. Delegates attended from across 5 different timezones and we recorded the event so that it was available on demand for those unable to attend the livestream.